CREATIVE TEAM BUILDING IDEA
- CARDBOARD BOAT RACE -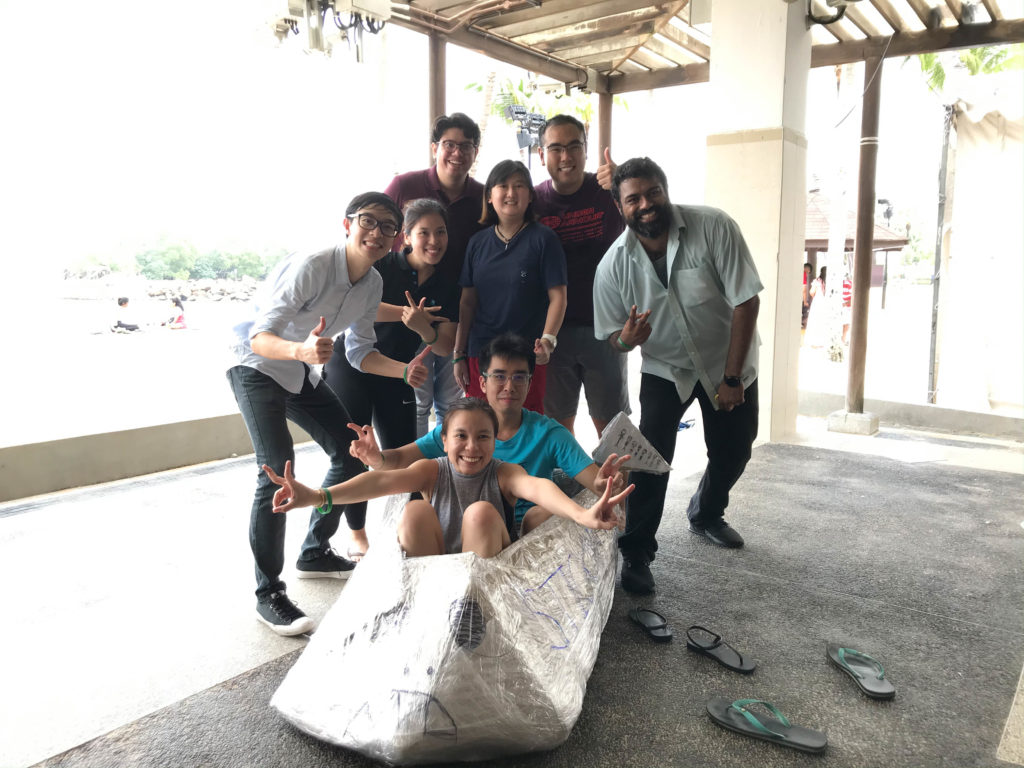 Having a creative team building idea is the most important factor for Maersk's team building organising committee and they were never disappointed by participating in this Build and Race team building programme. 
On that particular rainy and breezy afternoon, Maersk participants went further both in terms of their team effort and unity reinforced. Maersk teams worked hand in hand in hopes of building the most stable and fastest cardboard boat in this very unique team building programme!  
Having the event venue located along the Siloso Beach at Sentosa, with the sea breeze caressing everyone's faces, Maersk participants strolled in leisurely, catching up with one another on the happenings of the week. While some were donned in their armours (sports attires), others stood there unknowing of the series of exciting events that were about to unfold before their eyes.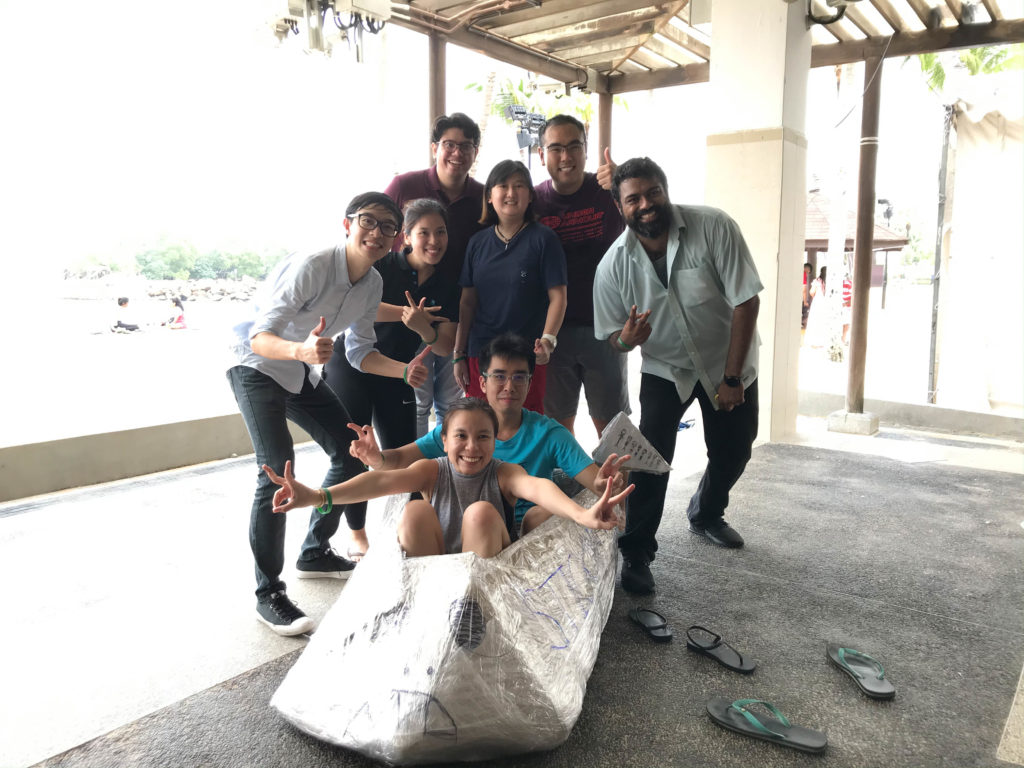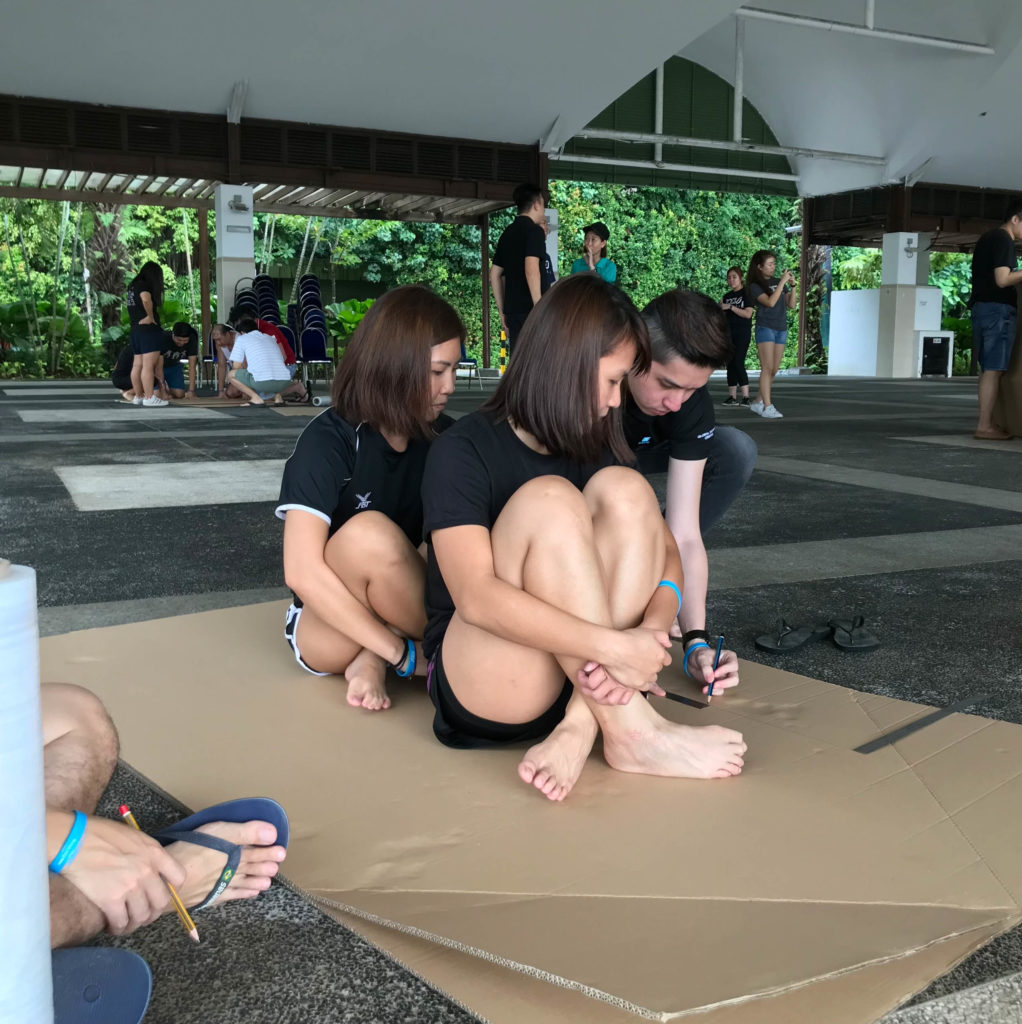 CARDBOARD BOAT - IS IT EVEN POSSIBLE??
Starting off with an energiser that got everyone pumped and awake, participants were whirring with enthusiasm as they went about competing with their fellow mates to dominate and emerge as the longest "snake"! Energised and excited, teams were split and given an hour to build their very own life-sized boats from plain, flat cardboard sheets! Ever wondered how one could build a boat in an hour that could fit 2 people and actually float in the sea? That was the same response garnered from the participants as expressions of disbelief were plastered on their faces upon hearing this nearly impossible task!
Nonetheless, Maersk teams set off to work straight away, challenging the unknown. Using their expertise, participants brainstormed on how to make life-sized boats from the minimal materials given. This was when things started to get interesting.
Each team was creative in how they started off their building journey. While most teams began by measuring and outlining with a pencil, there were 2 particular groups that caught Funworks Team's eye. One group proceeded to wrap all their cardboards in pallet wrap without prior measurements while the other group had 2 members sitting on the cardboard as a starting point to measure. These innovative ways indeed challenged the usual process and was eye-opening to witness.  
With each passing moment, members could be seen working closely together to present their final version of the boat. Amidst all seriousness and competitiveness, there were constant moments of laughter and joy resounding from the pavilion as each team came up with a design and name for their respective boats.
Once everyone was done, it was finally time for the second step! Teams were now ready to introduce their boats to their fellow mates and panel of judges, followed by cheers that they had came up with! While there were varied levels of successes for their cheers, it was without a doubt that everyone's boat had turned out to be unique and unparalleled to any other. 
As the clouds slowly parted, allowing the sun to shine through brightly, teams were left with their last and most anticipated activity: THE FINALE RACE. Two by two, teams brought their proudly done boats to withstand the test of stability and speed in the sea.
At last, the air horn let out a resonating beep, signalling the start of the race. Teams frantically paddled, hoping to be the first to reach the finishing line. While some boats soared through the ocean, others had toppled over, leaving their people stranded. Nonetheless, amidst it all, teams were jumping up and down in excitement, cheering on their teammates from the sidelines. Some even went into the water to help, displaying the action of team work and collaboration! Above all, it was definitely an enjoyable team bonding experience for Maersk as they left Sentosa with their hearts full and some with wet outfits!  
Here's wishing Maersk a prosperous year ahead and may the company soar to greater heights!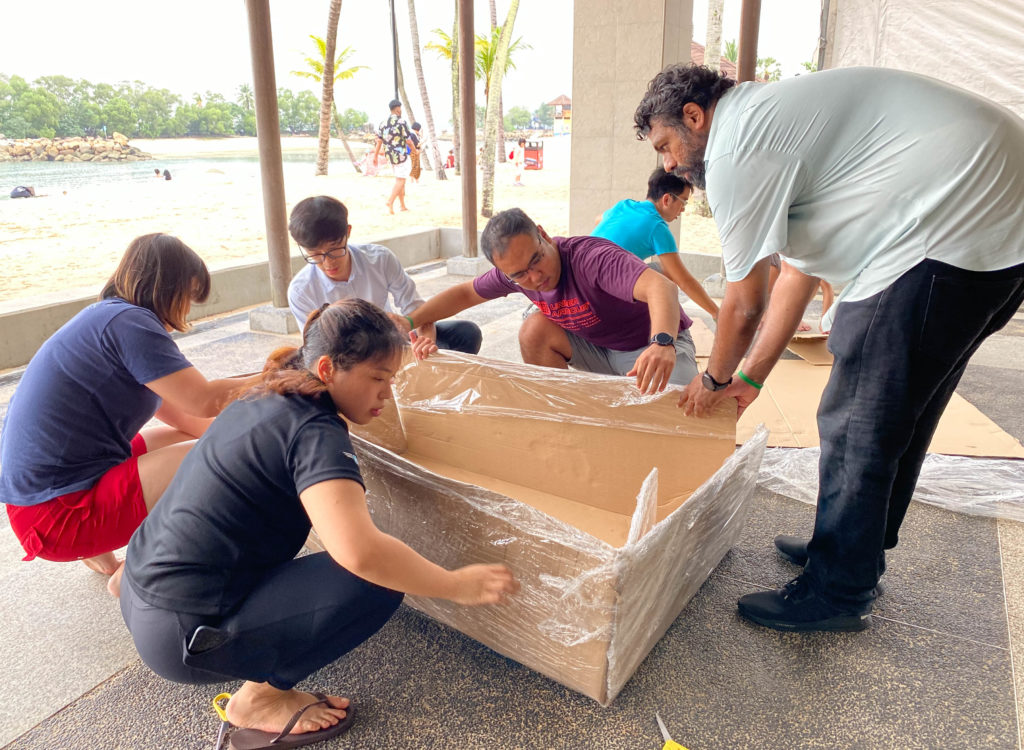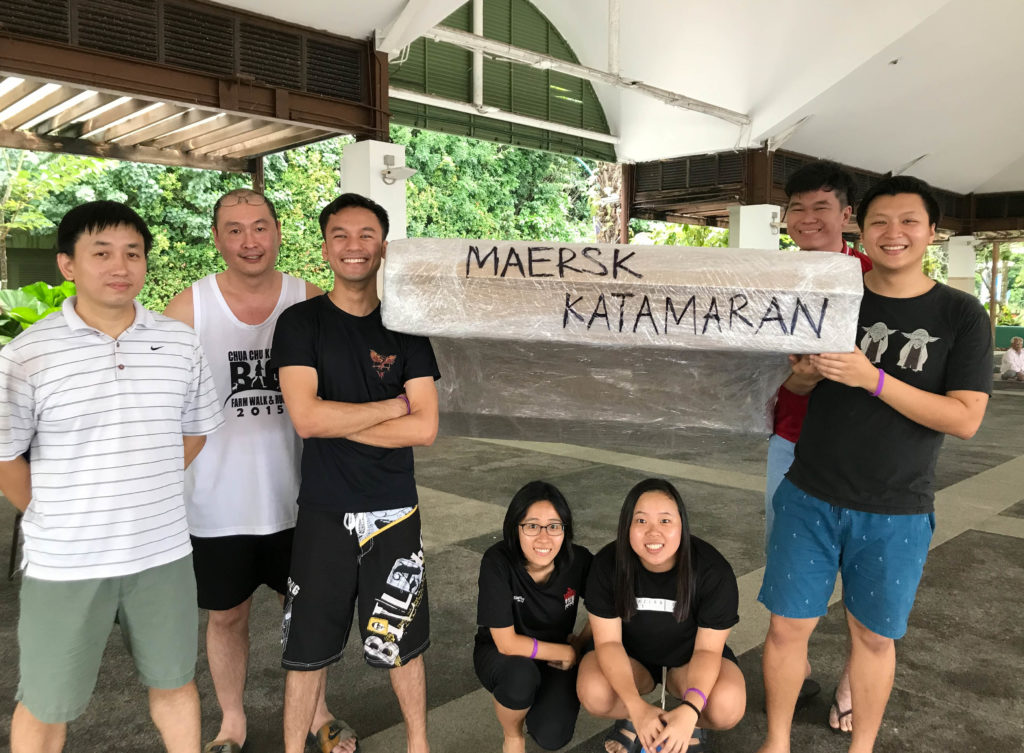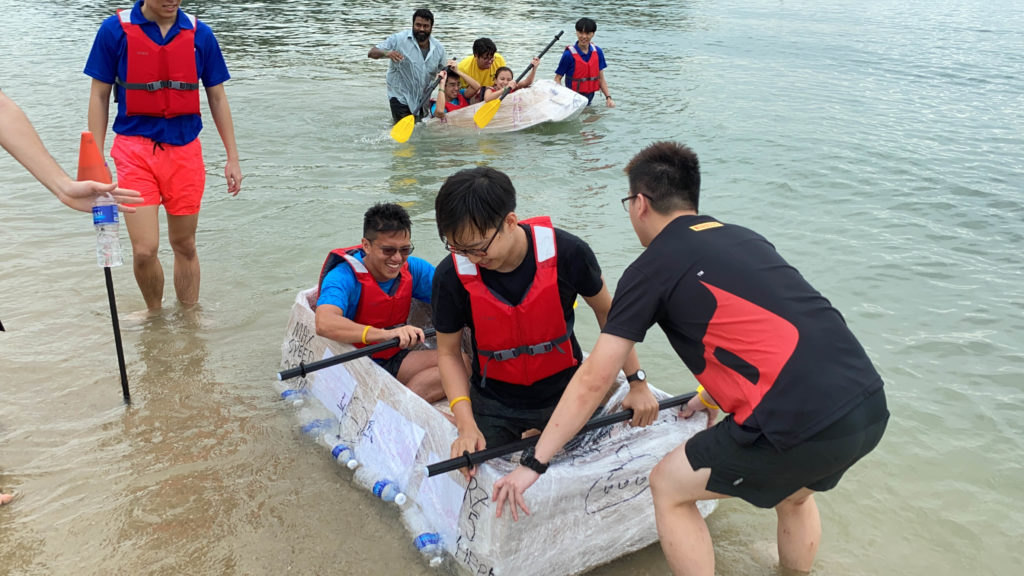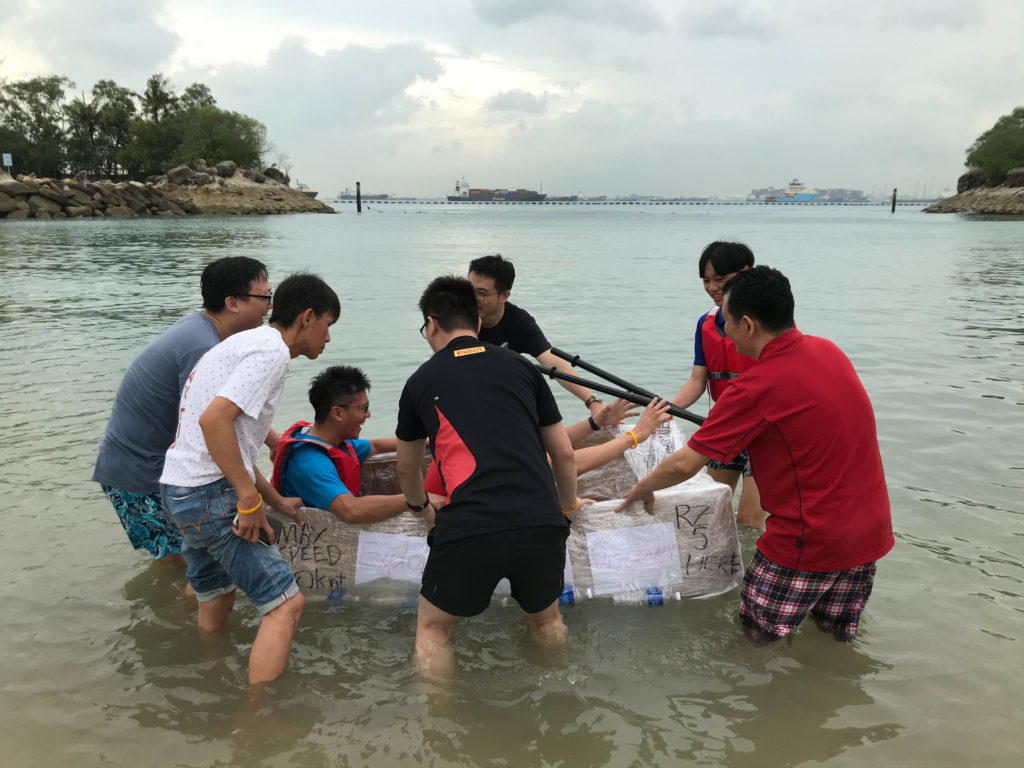 Are you looking for a creative team building idea for your upcoming corporate event in Singapore soon? We are ready to help! 
At Funworks, we have an in-house creative team that develops new team building activities for our clients here in Singapore.  We have over 50+ unique team building activities that you could choose from!
Our experience and fun Happiness Ambassadors who have executed countless of successful events will be able to customise a programme based on all your team building requirements and provide you with a one-stop solution, with awesome customer service! Contact us to get more team building ideas for your next event!
Want to do something similar for your next event?
Contact us and we will advise you on the next step!
SUBSCRIBE TO OUR NEWSLETTER
We're committed to your privacy.
Funworks uses the information you provide to us to contact you about our relevant content, products, and services. You may unsubscribe from these communications at any time.
YOU MAY ALSO BE INTERESTED IN: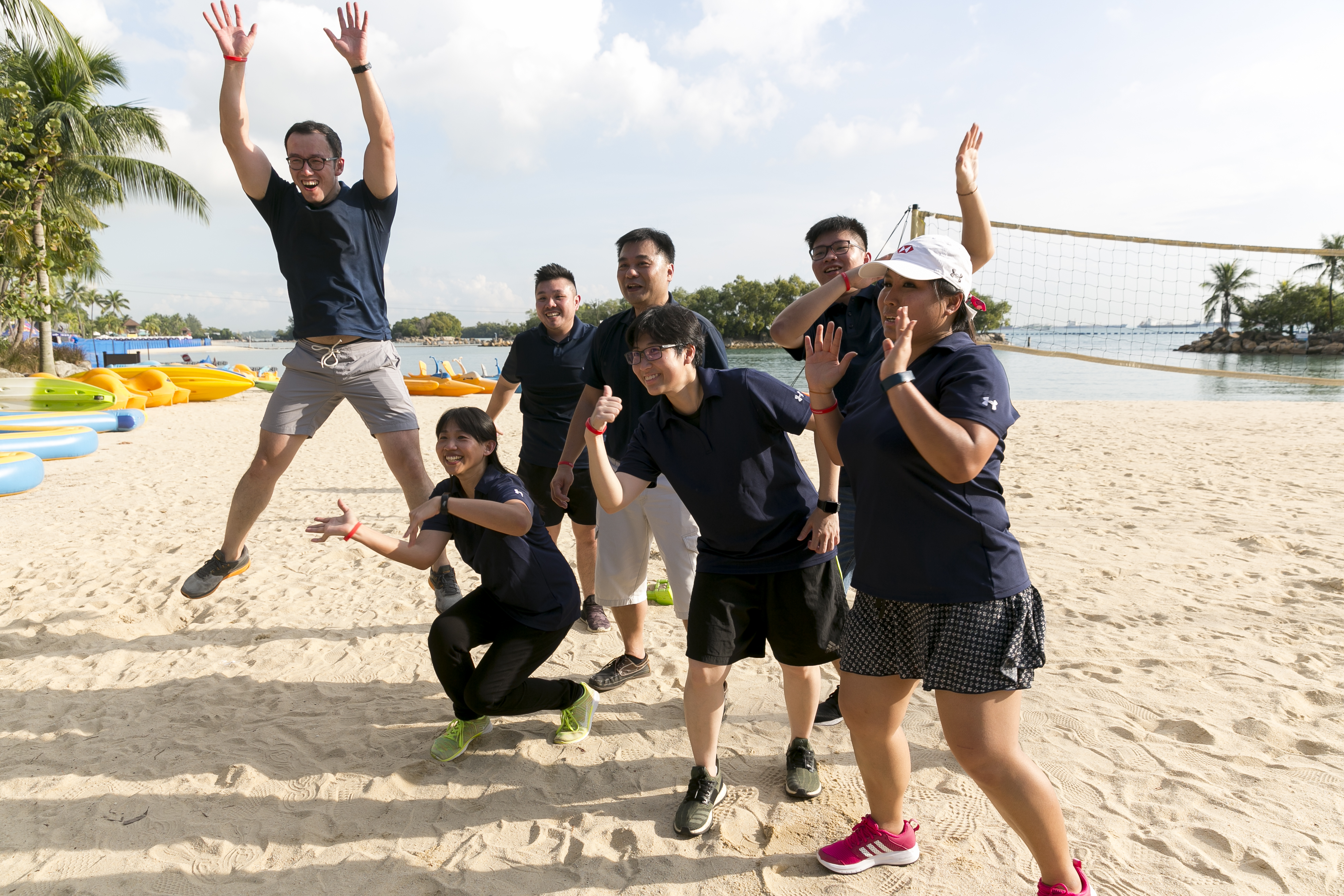 TEAM BUILDING ACTIVITIES YOU CAN DO IN SINGAPORE