COURTS SINGAPORE TEAM BUILDING
- The Royal Chariot -
The first few weeks on the job can be both exciting and daunting for new hires as they familiarise themselves with their new job environment. COURTS (Singapore) took full advantage of orientation events and opportunities for their new hires to meet and interact with other new colleagues while learning more about the company's mission and core values: Employees First, Customer Focus and Innovate to Grow. This would help to smoothen the transition period for the employees and also ease them into getting into the right frame for their daily duties.
Thus, the team of new hires gathered together to take on Funworks' Royal Chariot Challenge. This hands-on challenge gave the participants a chance to interact with other colleagues while discovering the COURTS' core values through a fun and energetic way. The challenge required teams to make use of building resources such as cardboard, cable tie, tape, and glue, transforming them into a life-sized racing chariot based on a blueprint. After building, the teams pit their chariots against each other in a test of speed and skill.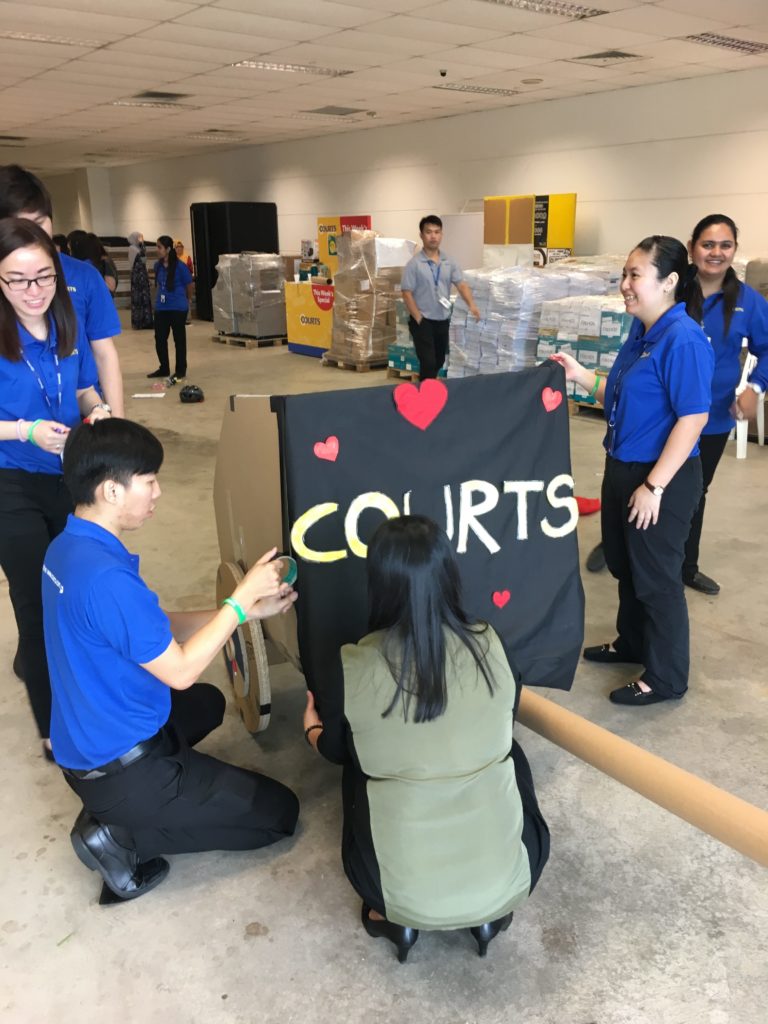 Throughout the session, the participants constantly tried their best to be involved in the building process, as well as make sure that their fellow team mates were also engaged. This led to a more efficient timeline, especially with everyone doing their best in their assigned roles.
The teams were faced with further challenges as they attempted to strengthen and decorate their chariots with limited resources. They not only had to ensure that their chariot was able to withstand the weight of one team member, but yet could also move quickly and smoothly in the final race. For some teams, they took a step back and re-looked at their remaining materials, trying to think of new and innovative ways they could use the materials. For example, one team used pencils to further build up the axel of the wheels and continuously tried to look for methods to further enhance their chariot.
KEEP THE BIG PICTURE IN MIND
With a blueprint and a sample chariot to reference from, the teams could easily focus on their task at hand and collaborate to achieve their objective – to build the fastest chariot for racing. The winning team was a great example as they put their heart and soul into building a Superhero Chariot powered by their amazing teamwork, dedication and energy!
Want to do something similar for your next event?
Contact us and we will advise you on the next step!
SUBSCRIBE TO OUR NEWSLETTER
We're committed to your privacy.
Funworks uses the information you provide to us to contact you about our relevant content, products, and services. You may unsubscribe from these communications at any time.