SINGAPORE TEAM BUILDING EVENT ORGANISER
Funworks is the #1 trusted Singapore Team Building event organiser. 
Organising your company team building event has never been easier with our comprehensive packages.
You can either choose one activity from our wide range of team building activities or simply tell us your event objectives and we can customise a programme for you.
Your event planning starts here –
Free consultation. No credit card required.
ONE-STOP SERVICE AS A SINGAPORE TEAM BUILDING EVENT ORGANISER
We understand the pain points of organising a team building event on your own as it can be very tedious and time-consuming to come up with creative ideas that tie to your key learning objectives, source for suitable venue, prepare the necessary logistics and many other tasks.
Funworks is a one-stop event organiser in Singapore for organisations looking for a fun, meaningful and effective team bonding experience that encourages employee engagement.
From idea conceptualisation, logistics support to actual day event management, Funworks takes care of everything for you.
Tell us your event objectives and we will design and customise a fun and engaging activity for you. We do not compromise quality for profit, rather, our dedicated team works with you to develop the best event proposal that your budget can buy!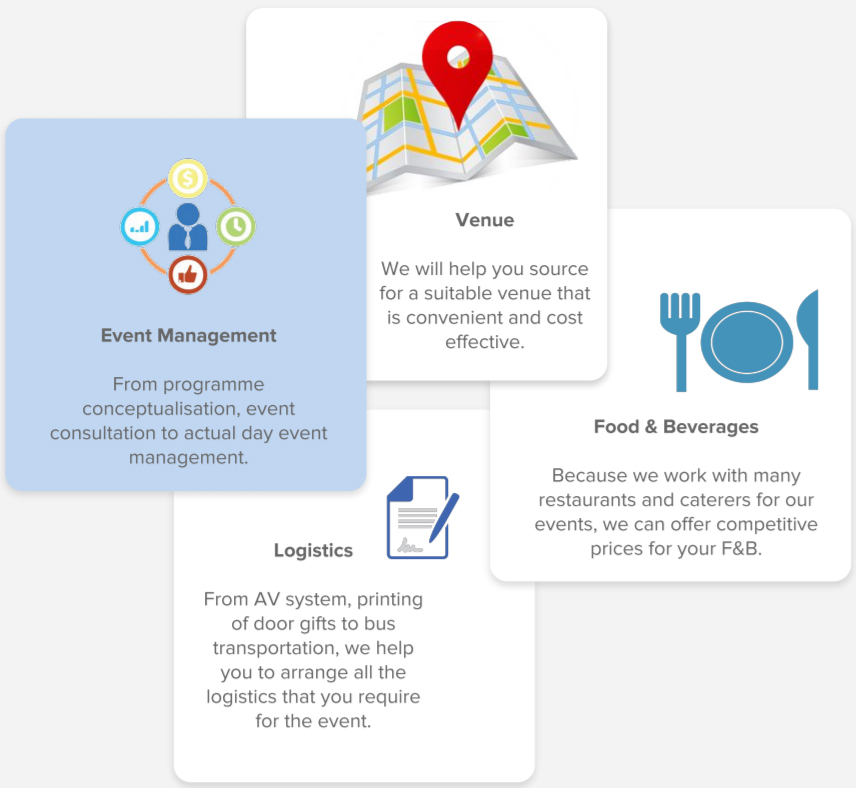 The alternative way to engage your employees even if they are working from home or remotely.
Find out how we can help you to boost your team's morale while you focus on the bigger picture. 

The spirit behind our FUNWORKS activity is about
Collaboration, Competition & Celebration
As a team, you will need to work closely together to complete each of your mission objective within the stipulated timing.
The challenge is designed to bring out the feeling of competitiveness in individuals, which will spur you on to uncover your full potential.
At the end of the day, we hope you can celebrate your unity in a fun and thrilling manner.
TYPES OF TEAM BUILDING ACTIVITIES IN SINGAPORE
With a huge portfolio of corporate team building activities, you will definitely find a solution which will be both enjoyable and rewarding for your staff. Our packages provide all the essentials for any type of team building event of your choice.
Transform plain cardboards into a life size structure! Get energetic and creative with our unique programmes that require originality, ingenuity and energy to succeed.
Send your participants out on an exciting journey of discovery to explore the beautiful sights with our fun and challenging team missions.
Have you heard the saying "Food is the ingredient that binds people together"? Well, Funworks makes it happen through our various delicious and exciting programmes that involves food in various ways.
Participate in our series of different sports and high energy programmes that will guarantee lots of fun, laughter, and of course perspiration. Compete in a wide variety of conventional and unconventional sport activities, involving many twists and surprises.
Strategise as a team and challenge each other in our mind stretching programmes that taps on your skills in communication, strategic thinking, and innovation.
Who says fun team building programmes must be held outdoor? Get energetic and creative whilst exploring team dynamics and emotional intelligence with our unique indoor interactive team building programmes.
Build & Create
Search & Hunt
Food-licious
Get Active
Strategise & Innovate
Stay Indoor, Stay Cool
Download our team building in Singapore catalogue!
Team Building Event In Singapore Case Study |
On that particular breezy afternoon at the island of Sentosa, Maersk participants went further both in terms of their team effort and unity reinforced. Maersk teams worked hand in hand in hopes of building the most stable and fastest boat in this very unique team building activity!
PLAN YOUR NEXT TEAM BUILDING EVENT TODAY
You will be working with a reliable Singapore team building partner with creative talent to truly delight your participants and bring your events to life without blowing your budget!
Ask us how we can help you create a happy workplace.
Free consultation. No credit card required.